likeNU cleans dust, grease, graffiti and more from ceilings and walls including brick, block, RCP and plasterboard. We clean ceilings and walls in commercial kitchens, cafeterias, dining rooms, dental offices, clerical suites and more.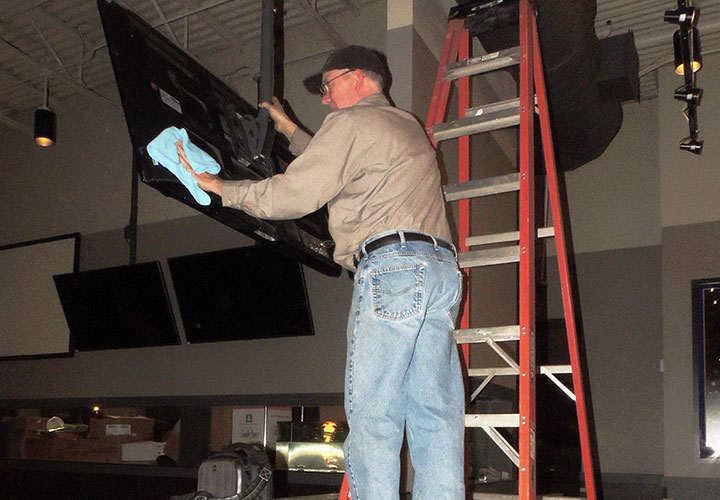 COMMERCIAL KITCHENS are a likeNU specialty. We prespray walls with solvents, then scrub with wall mops. We use microcell sponges and hospital-grade cotton cloths to clean stubborn marks. REMOVES GREASE, DUST, DIRT, WEBS, FOOD SPOTS AND MORE!
We also WASH KITCHEN CEILINGS! To prevent contamination, we visqueen grills, fryers, stovetops, cooler doors, wall-hung utensils and more. We clean plaster ceilings and suspended ceilings including tracks, RCP panels, and fluorescent light diffractors.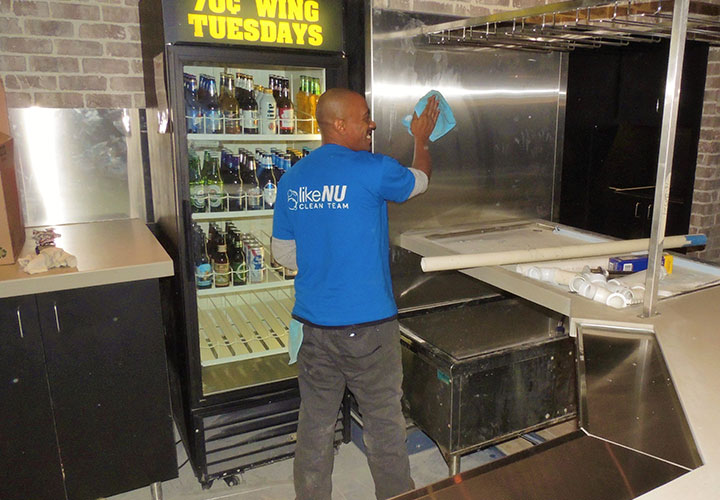 Do you know what's in that fuzz clinging to ceiling fans and chandeliers? Dead insects, dust, fungus spores and other allergens! Improve YOUR environment with likeNU OVERHEAD CLEANING. likeNU cleans all types of ceiling fans, chandeliers, smoke detectors and wall vents. We OVERHEAD DUST including HVAC ducts and vents, ceiling trusses, conduits, eclectic decor and other exposed elements.
likeNU has cleaned commercial ceilings, walls and overheads in the nine-county metro Detroit area for more than 28 years. likeNU is "A+" rated and accredited by the Better Business Bureau. We're also screened and approved by "Home Advisor". We clean more than 500 halls, bars and restaurants, more than 500 bank branches, and dozens of auto dealers, clinics, hospitals, hotels and more. Check out our residential and commercial references in the drop-down menu. Experience the likeNU difference yourself – call 586-558-7337 today!