When vinyl flooring is manufactured, the factory applies a "mill finish" that wears out over time. The finish will wear out whether the floor is Pergo, square vinyl tile, linoleum, marmoleum – you name it! Finish failure is one of several reasons that you can never properly clean older vinyl floors, no matter how much time you spend on them. When the sun sets on YOUR vinyl floor finish, it's LikeNU to the rescue! Our plasticized urethane lasts 6 months or more between recoats in heavy commercial use, and up to years in light-duty applications.
LikeNU specializes in refinishing commercial areas including vinyl kitchens, medical offices, retail and food stores, theater lobbies and cafeterias. Note the cleaning process that precedes vinyl floor refinishing in this dental office. Observe the edge work around the base of the dental chair – details like edges, corner cleanliness and more are essential to a shiny new surface free from dust, fibers and other inclusions. LikeNU crew leaders average over 12 years experience in this challenging field. Our diamond-hard URETHANE finishes will provide months of satisfying performance.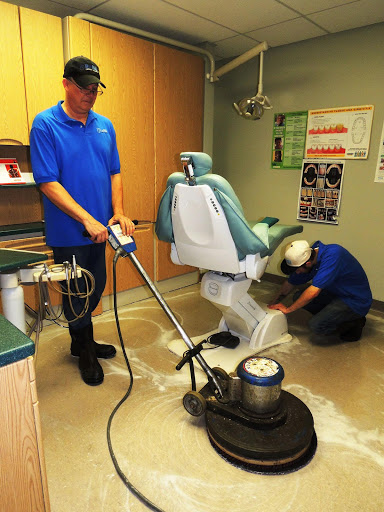 Here's LikeNU at Better Health Food Store in Shelby Township, performing a floor strip with a rotating pad. A "strip" removes every bit of grease, hard soil, mildew, gum, food spots and more from the vinyl floor. The strip will be followed by a glossy new URETHANE finish. Bright floors reflect light, increasing your sales. Smooth floors are easier to sweep and mop, saving maintenance expense. Also, customers walking on URETHANE will never wear out your floor – just the finish. LikeNU URETHANE also prevents vinyl shrinkage that increases gaps between tiles – refinishing will enable your vinyl floors to last for decades!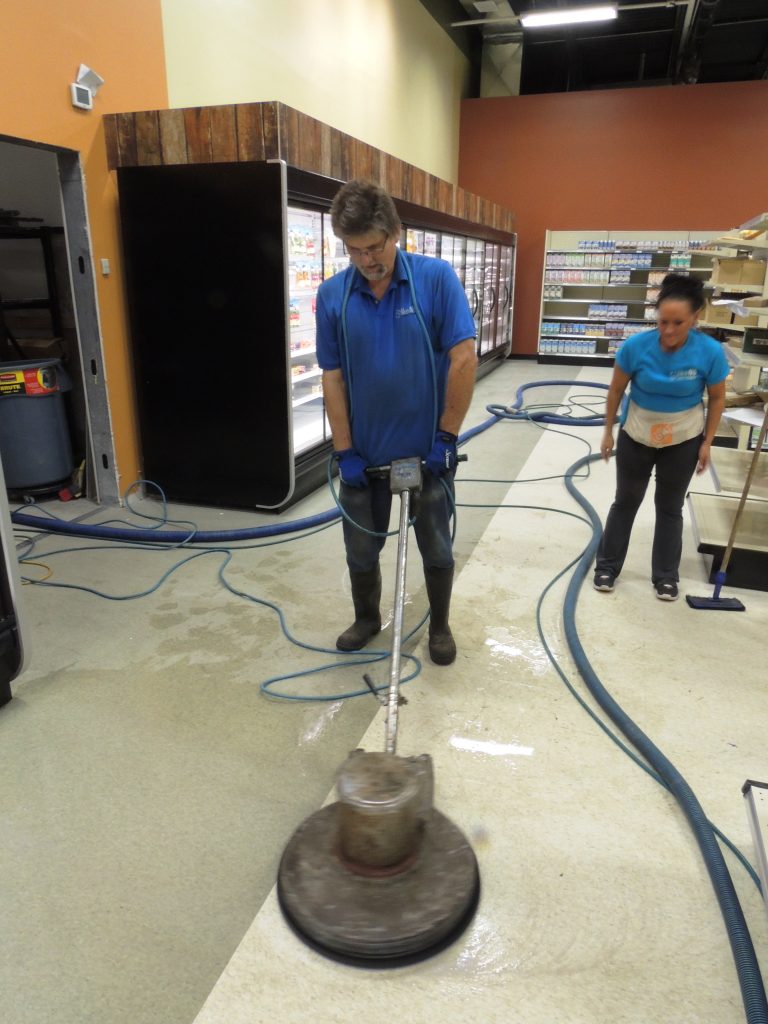 LikeNU vinyl tile services include: vinyl tile cleaning and refinishing ("strip and wax"), scrub and recoat, spray buff, acrylic recoat, urethane recoat and more. LikeNU acrylic and urethane finishes are water-based for low odor and low VOC's. You'll be able to use your vinyl floor again in 4 to 6 hours.
LikeNU has cleaned and finished commercial vinyl tile in the nine-county metro Detroit area for more than 28 years. LikeNU is "A+" rated and accredited by the Better Business Bureau. We're also screened and approved by "Home Advisor". We clean more than 500 halls, bars and restaurants, more than 500 bank branches, and dozens of auto dealer, clinics, hospitals, hotels and more. Check out our lengthy residential and commercial references in the drop-down menu. Experience the LikeNU difference yourself – call 586- 558-7337 today!