Kitchen floor grease is a food source for cockroaches, silverfish, rats, mice and microbes. It also spoils and creates nasty odors, plus slip hazards when wet – all great reasons to get it off commercial kitchen floors. The following restaurant owner was amazed by his likeNU results.  He'd tried deck-scrubbing, cleanser, bleach and more. Finally, it was likeNU to the rescue! His grout is now clean, his tile lighter and brighter, and the grease is GONE. Improve the cleanliness, odor and appearance of YOUR commercial kitchen – call likeNU today!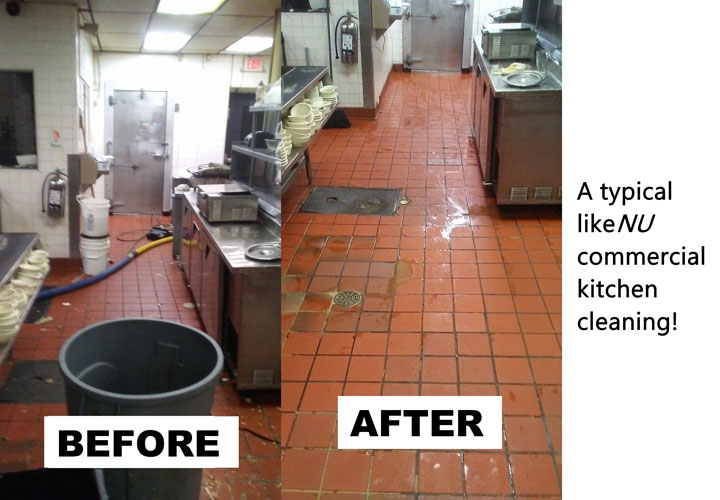 likeNU's kitchen cleaning process begins with an application of proprietary ORGANIC PRECLEANER.  Our precleaner emulsifies kitchen grease and liquifies hard soil, winter salt, sticky carbohydrates and more. Then our mighty TURBO TOOL gets to work with 220° steam and 1,000 pounds of pressure!  The slimy goo is suctioned away into our curbside service truck.  The result?  Ceramic kitchen tile clean enough to eat off!   We get the same results on concrete, porcelain, rubberized surfaces and more!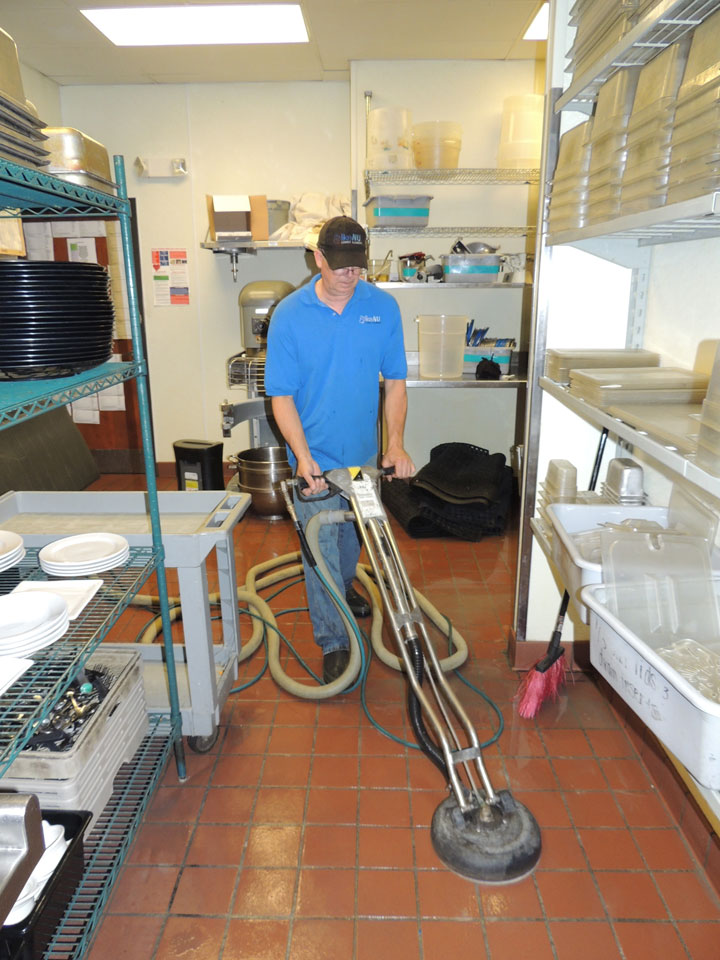 From tiny delis to giant hotel kitchens, likeNU cleans them all, and OVERNIGHT, so you don't lose any business.  We can also clean kitchen walls & ceilings – call TODAY for prices!
likeNU tile and grout services include:
Ceramic tile cleaning
Porcelain tile cleaning
Raw concrete clean and finish
Paint-stained concrete clean and finish
Coated concrete clean and finish
likeNU has cleaned commercial tile, grout and concrete in the nine-county metro Detroit area for more than 28 years. likeNU is "A+" rated and accredited by the Better Business Bureau. We're also screened and approved by "Home Advisor". We clean more than 500 halls, bars and restaurants, more than 500 bank branches, and dozens of auto dealer, clinics, hospitals, hotels and more. Check out our lengthy residential and commercial references in the drop-down menu. Experience the likeNU difference yourself – call 586- 558-7337 today!