Don't kick soiled furniture to the curb before calling us! Ultra-suede, nylon, poly, cotton, wool – likeNU cleans every kind and color of fabric. Our ORGANIC solvents emulsify greasy contaminants like chocolate, gravy, soft drinks and lipstick. Then our 220 degree steam and powerful truckmounts extract every nasty bit. Sectionals, sofas, love seats, chairs, ottomans, mattresses and more – likeNU cleans them all!
Does your rec room couch smell like compost? Or if you have kids, old gym socks? Nothing beats the bright colors and fresh citrus scent of likeNU cleaned furniture. One cleaning per year controls noxious odors, keeps spots from becoming stains, and prevents gritty soils from wearing down fibers. Weakened fibers are a major cause of fabric rips – keep upholstery strong with regular likeNU extraction cleanings.
Below is a microscope view of awful DUST MITES. These nasty insects live in YOUR mattress, where they feed on flakes of shed skin, and then COPULATE, DEFECATE AND DIE! Within six months of cleaning, mites will repopulate, and billions of these tiny pests will once more share YOUR bed. Mites cause allergies, rashes, fitful sleep, brain fog and worse! No quantity of vacuuming, linen changing or Bisselling can corral these awful critters, but our 2-step, double-steam process CAN! likeNU patented solvents and 220 degree steam are ANTI-MICROBIAL, and will demolish these horrible hordes.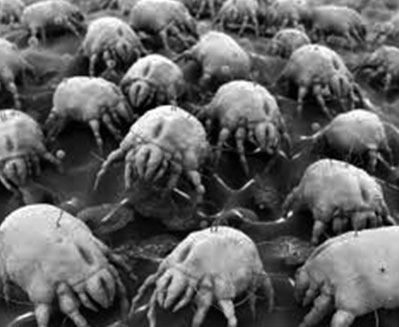 likeNU has cleaned residential furniture and mattresses in the nine-county metro Detroit area for more than 28 years. likeNU is "A+" rated and accredited by the Better Business Bureau. We're also screened and approved by "Home Advisor". We clean more than 500 hotels, halls, bars and restaurants, more than 500 bank branches, and more than 20,000 private homes. Experience the likeNU difference yourself – call 586-558-7337 today!